A
milestone
of the
gold leaf.
YAHIRO×GOLDEN VALOR
"GOLDBLU lamp" is a series of lighting products featuring the phenomenon of light transmitted
throught thin gold leaf appears to be blue-green as gold has the property of absorbing blue and green light.
The series of lamps are designed by 3 different designers based on this same concept. By applying
this unique feature of Japanese traditional gold leaf craft to modern lifestyles,it aims to solve the critical issue of decline in Japan's traditional gold leaf industry. Through this collection, users can be aware of the mystic beauty of natural gold and traditional refined craftsmanship in their everyday lives.
"GOLDBLU lamp"は特注照明メーカー「八紘電機株式会社」と、金沢箔ブランド「株式会社ゴールデンバロール」とのコラボレーションで生まれた、光が当たると青緑に輝く金箔の特性を利用した照明プロダクトシリーズ。
日本の伝統として残る金箔工芸を、現代のライフスタイルに応用する事で、衰退しつつある金箔産業を蘇らせる事を目指しています。金箔の神秘的な美しさと、洗練された職人技に触れる事で、新たな金箔の価値を生み出し空間を今までにない彩りを与える照明シリーズです。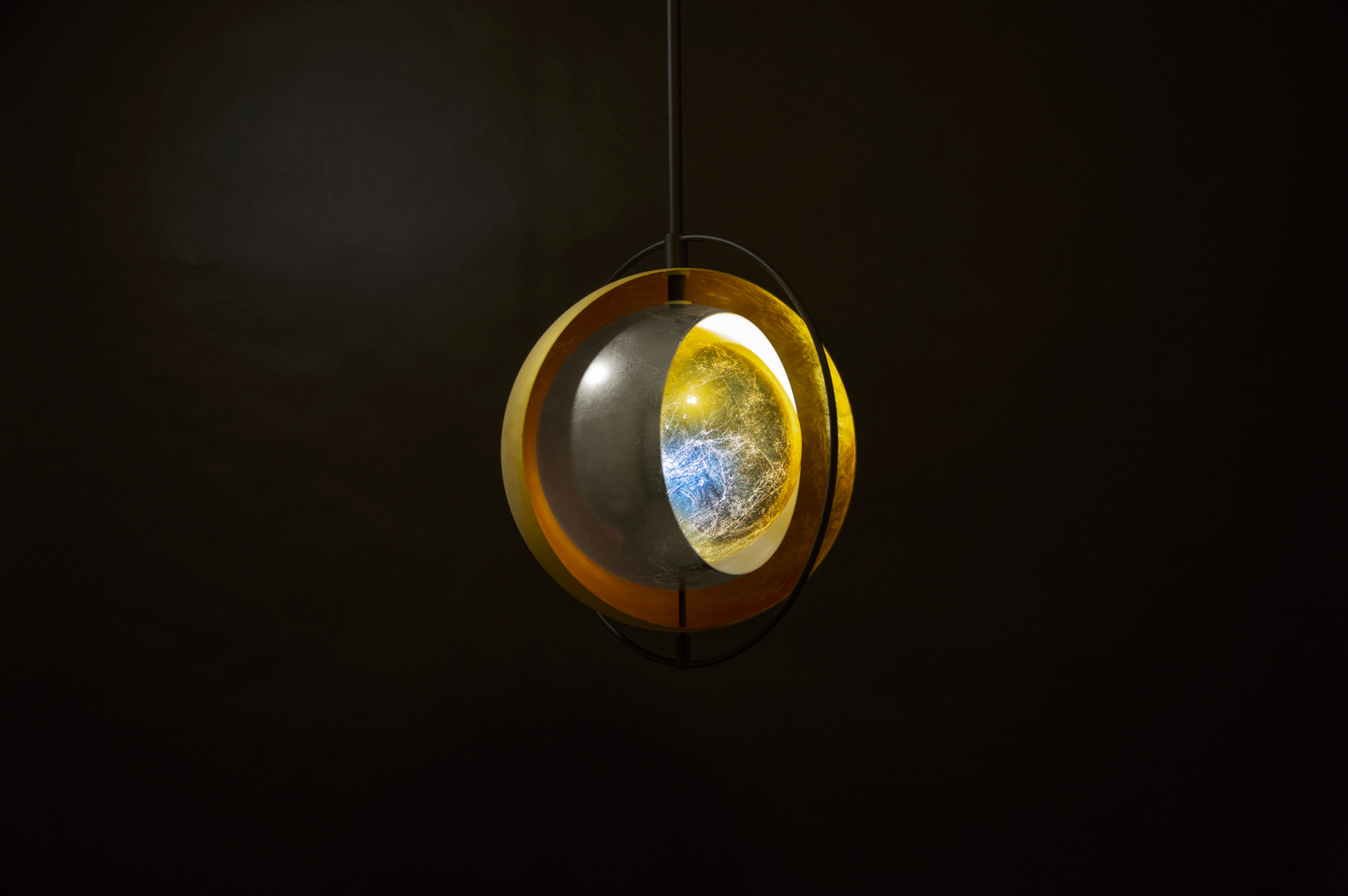 PHASE
by Yinghsuan Wang
Gold leaf beaten to less than 0.1 μm thick reveals a
bluish-green color when light is transmitted through it.
Using Japanese traditional craft "Kanazawa metal leaf"
to apply gold and tin to the three shades,as they rotate,
in between the gold and silvery gleam lies streams of
bluish-green as well as the new possibility of "Kanazawa
metal leaf".
金箔の黄金と錫箔の銀白の隙間から零れる光が金箔を通り
青緑に輝く0.1μmの世界。3つのシェードの回転と重ねを
通じ、伝統工芸「金沢箔」の新しい可能性をペンダント照
明で創出いたします。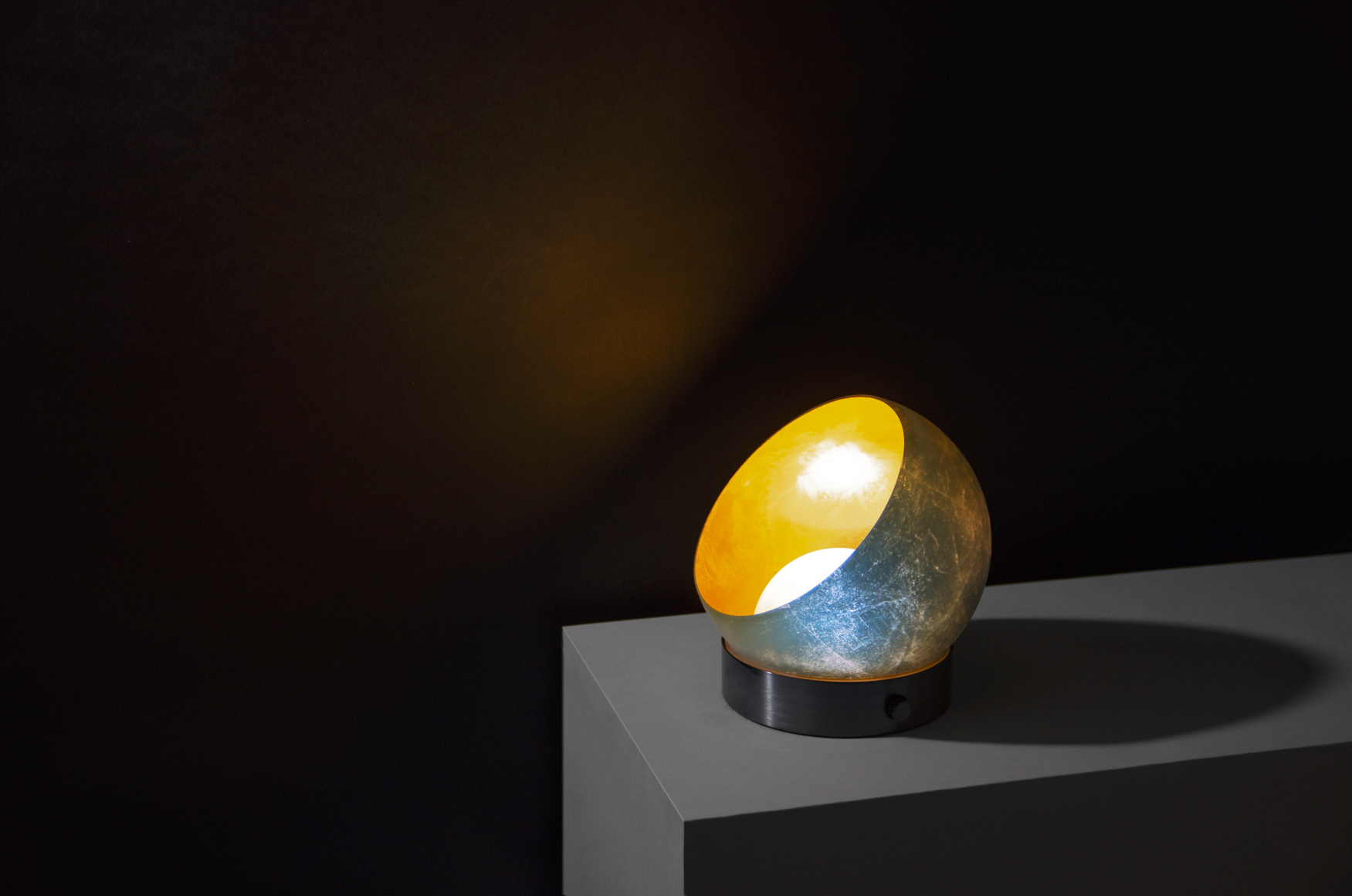 LESS THAN 600
by Knowledge Base Design
LESS THAN 600 is a portable freestanding lamp which
is inspired by a beauty of "Kanazawa Gold Leaf"using
modern lighting technologies such as a rechargeable
battery and LED so that enables to carry it anywhere.
It features glittering inside by the golden reflector,at the
same time appearing mystic blue -green outside.
伝統工芸「金沢箔」への敬意を、現代の照明技術で表現
した、充電式ポータブルテーブルランプ。テーブルやベット
サイド、チェスト、棚など様々な場所で気軽に使用できます。
青緑の光を透過する金箔の特性を活かし、黄金に煌く反射板
と共に青緑に輝く光が幻想的な空間を演出します。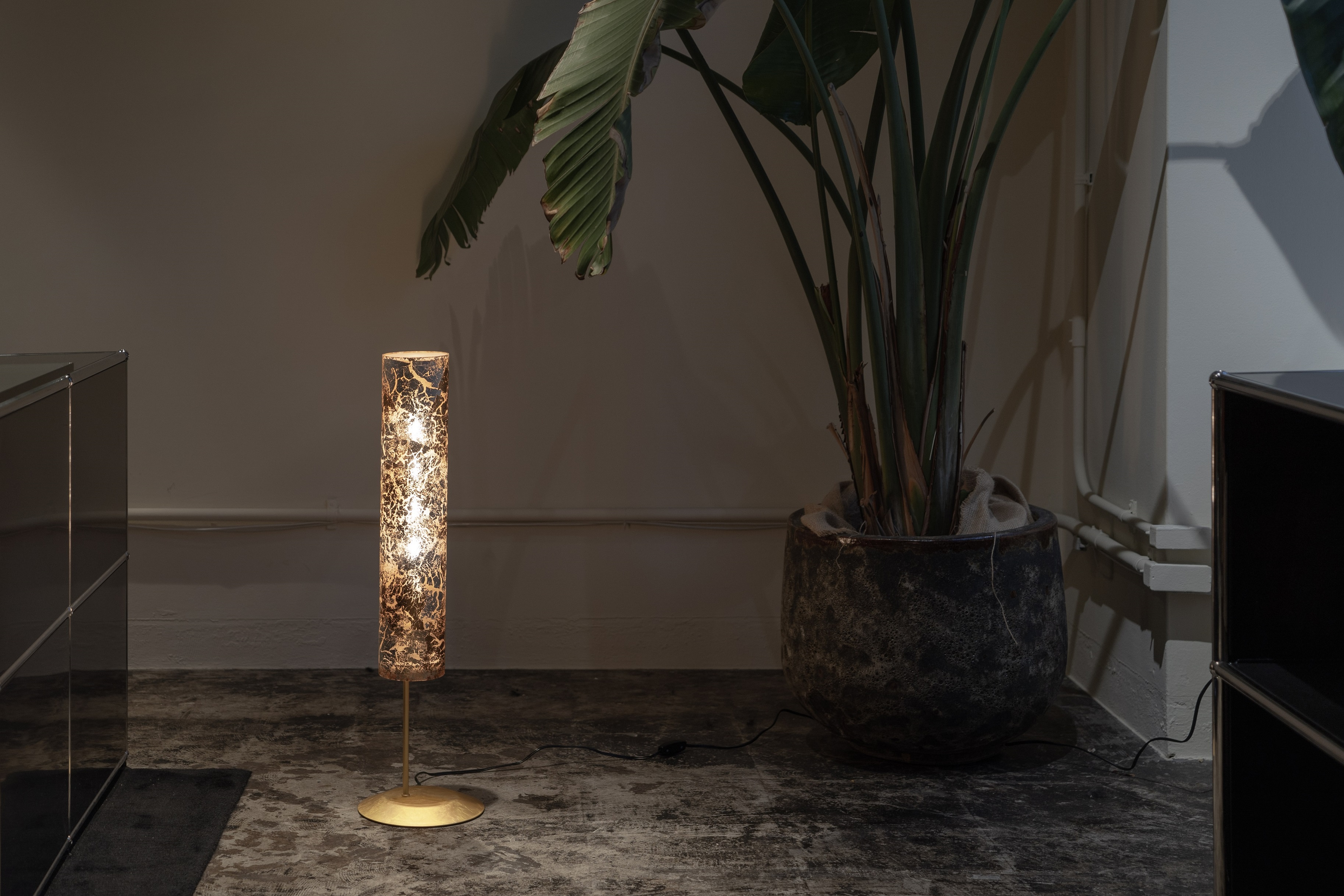 TIN
by Shinno Satoru
Gold leaf is produced from gold and more diverse than
gold.The skills of Kanazawa traditional craftsmen who
have accumulated over 400 years of history have been
fused with ornaments and Buddhist instruments that
are in harmony with that era. The light like foil that can
only be made with foil is now created with new value.
金箔は金より出でて金より多様性があります。
400年以上の歴史を積み重ねた金沢伝統工芸師による技は
その時代と調和された装飾品や仏具などと融合してきました。
箔でしかできない箔らしい明かり。現代の手で新しい価値を
生み出します。
【株式会社ゴールデンバロールさまホームページ】https://golden-valor.com/